DENTAL HYGIENIST CLERKENWELL, FARRINGDON
Elevating Oral Hygiene and Preventing Dental Diseases
Prevention is key when it comes to dental diseases. The most important thing you can do for your teeth and oral health is keep a good dental routine and regularly visit your Dentist and Dental Hygienist.
Here at Zero:Seven, our expert Dentists and Dental hygienist will examine and clean your teeth and mouth, identify problems such as decay and gum disease, and advise you on how to treat it before it becomes more serious.
We will provide you with a tailored treatment plan and appointment recall allowing you to take the very best care of your mouth health and get the most out of your smile.
There are aesthetic benefits to regular teeth cleaning appointments too! A scale and polish not only deep cleans your teeth by getting into those hard to reach areas that we all miss at home, but it also removes surface stains left on your teeth by some food and drinks. Leaving your whole mouth feeling cleaner and fresher with a whiter looking smile!
We know that some patients can feel nervous about a trip to the dentist, even if it's for a routine clean. Our team are known for their friendly chair-side manner and are dedicated to making you feel at ease, ensuring you are as comfortable as possible before and during your treatment.
Your Clean Smile Journey
1. BOOK An Appointment
Most check-ups are relatively straightforward and shouldn't take too long – so you might even be able to see us during your lunch break.
Take advantage of our New Patient Offer – Dental Exam including radiographs and Scale & Polish just £75!
2. TREATMENT
Whatever the condition of your mouth, teeth and gums, we'll give you a thorough examination to check for signs of decay, gum disease, or other oral health problems. We'll also give you a scale and polish, which not only serves to rid your teeth of cavity-causing plaque, but can remove surface stains to make your teeth look brighter and whiter and leave your whole mouth feeling fresh and clean. Finally, we can take any x-rays and impressions required by your Dentist, and may be able to provide treatments such as fissure sealants or teeth whitening, subject to a consultation.
3. Expert Advice & RECOMMENDATIONS
Part of your treatment here at Zero:Seven involves talking through everything from your brushing technique, to the right products to suit your smile. For instance, in some patients, a sensitive toothpaste might be recommended. We can also talk to you about different toothbrushes, so if you have sore gums, for example, we might advise you to switch to a softer toothbrush; and if you're thinking of switching from a manual brush to a battery-powered alternative, we can help. Finally, for our younger patients, we might suggest using a toothbrush with a timer or light, to ensure children are brushing for the required time.
Book Consultation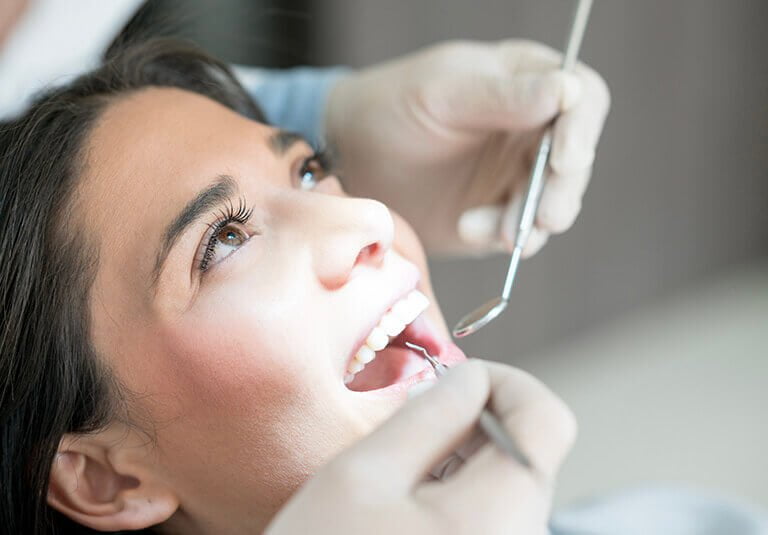 FREQUENTLY ASKED QUESTIONS
Even with brushing, flossing and using mouthwash, some bacteria can still remain in your mouth, such as in crevices between the teeth or at the back of the mouth, causing the plaque which can lead to decay. A dental hygienist appointment at our dental practice in Farringdon can target these harder-to-reach areas and help ensure your mouth is as happy and health as possible.
There are lots of ways a dental hygienist can help:
Advice on appropriate products and techniques, to suit your smile

Thorough cleaning with scale and polish treatment

Help prevent gum disease, decay and even tooth loss
Some patients need more regular hygienist appointments than others, especially if they have a dental condition such as gum disease. Patients with a good level of oral health usually require an annual appointment. Your clinician will advise you on your recommended appointment recall after during your visit.
Both your Hygienist and your Dentist can help with the health and hygiene of your gums, teeth and mouth. However, Dentists also have specialised fields, such as periodontics or orthodontics. For routine check-ups, a trip to the Hygienist is usually all that's needed.
There's lots you can do to keep on top of your teeth:
Brush and floss twice a day, for two minutes each time

If desired, use a mouthwash to freshen breath and reduce plaque in-between

Consider changes to your diet and lifestyle, for instance:
– cutting down on decay-causing sugar
– avoiding staining foods
– quitting smoking, a leading cause of oral cancer

Talk to your Hygienist about the best products and techniques for your unique smile
A typical scale and polish shouldn't cause you any pain or discomfort, and we aim for our patients to feel as relaxed as possible during their treatment with us.