CROWNS & VENEERS CLERKENWELL, FARRINGDON
YOUR PERFECT SMILE AWAITS
When it comes to your smile, it doesn't take much to knock your confidence. When seeking crowns and veneers, our patients come to us for a range of reasons, from covering a single stained tooth or damage such as a chip or crack, to creating a brand new, uniform smile that suits your facial structure.
Natural looking teeth with crowns and veneers
Dental crowns and veneers cover your tooth with an artificial cap which not only protects your tooth, but blends your tooth (or teeth) with the rest of your smile. Our treatment can match the colour and shape of your natural teeth for the ultimate subtle solution, restoring your confidence along the way.
We currently have an offer for New Patients joining Zero:Seven Dental, a comprehensive dental exam, two radiographs and a scale and polish with the dentist for just £75!   Get in touch with our friendly team to book, available online or in practice.
3 SIMPLE STEPS FOR PERFECT TEETH
1. CONSULTATION
Ahead of your treatment, we'll invite you to a consultation where we can assess your suitability and decide on the best option for you and your smile. Our expert dentists in Farringdon will never pressure you into a decision and will always have your best interests – and your dental health – at heart.
2. TREATMENT
Our crowns and veneers can often be completed in just one visit, making them a same-day solution for your smile. Our state-of-the-art Cerec system enables us to design, create and fit your crown or veneers in just one session, without taking impressions, or needing to use a temporary solution while your new tooth cap is created, as is often the case.
3. RESULTS
Many patients agree that crowns and veneers instantly restore their smiles – not just aesthetically, but also through returning the function of the mouth. In cases where our patients have used veneers to create their perfect smile, the results are truly dramatic and transformational!
Book Consultation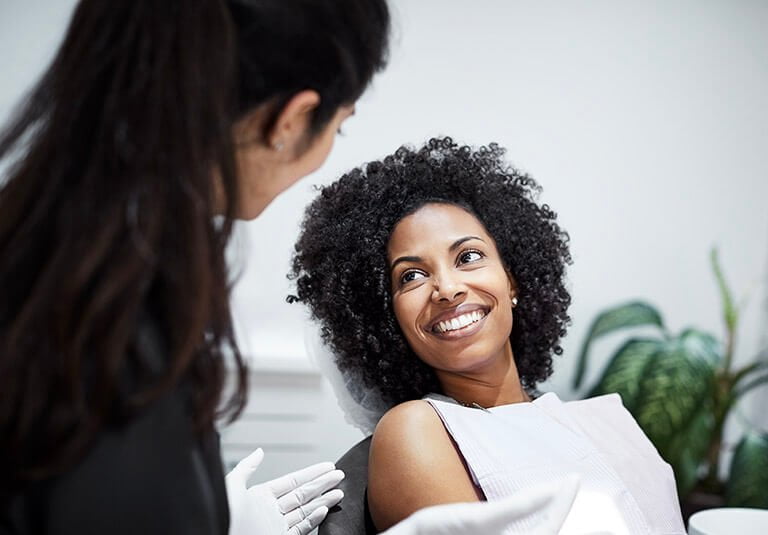 FREQUENTLY ASKED QUESTIONS
Crowns are typically used to repair teeth that are decayed or damaged, giving them a new cap that's essentially like a false nail for the tooth. They can also be used to cover a tooth that may be dull or discoloured.
Dental veneers are porcelain shells that are fixed to the front of the tooth, usually used for multiple teeth and for more cosmetic reasons. This can be used for improving crooked teeth, closing gaps or improving the look of discoloured tooth. The result is a brighter, more uniform smile.
It really depends on the patient and the unique situation. Typically, a crown might be a good option where your tooth is cracked, while a filling is more suitable for those with cavities.
Using our Cerec machine, we mill the perfect tooth or teeth for your smile. The material used is composite, a synthetic resin known for being durable and strong, which can be colour-matched to your existing teeth.
Thanks to our Cerec machine, we can actually create your new tooth or teeth while-you-wait – so instead of waiting weeks between your initial session and having the crown or veneer fitted, we can now do this in one appointment.
Dental crowns usually last around 5-15 years, but it depends on a range of factors, including:
– Your dental routine
– How often you visit the Dentist
– Habits such as teeth-grinding
Even though a crown covers over your natural teeth, it's still possible to develop decay or gum disease, so flossing and brushing are as important as ever.
Veneers usually last around 7-15 years, and around 10 years on average. Just like your natural teeth, they can be cracked, chipped and worn. As with crowns, visiting our dental practice in Farringdon, taking care of your teeth at home and stopping habits like clenching your teeth can all help your veneers last that bit longer.