What Is An OPG X-ray?
by Zero Seven Dental Practice on Orthopantomography.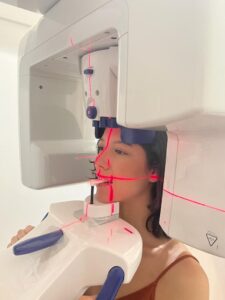 What Is An OPG?
As dental professionals we are surrounded by dental equipment all day everyday and so it's easy to forget how strange and sometimes scary all of our equipment looks.
The truth is most of it isn't as scary at all!
An Orthopantomograph or OPG X-ray or simply an OPG as we usually refer to it, is a type of X-ray scan that uses a single film, giving a panoramic view of your lower face. Which is why it is also sometimes referred to as a panoramic radiograph. The x-ray captures images of both jaw bones and surrounding areas as all of your teeth.
How Does It Work?
Orthopantomography uses low-level radiation (as all x-rays do) to capture images inside your body. In the case of an OPG it focuses on the lower part of the face – upper and lower jaw and surrounding areas as well as all of your teeth, including those that have not yet erupted.
During your OPG x-ray you will be asked to either stand or sit as still as possible while placing your chin on the small shelf in front of the machine and gently bite on the sterile mouth piece, while the x-ray is being taken.
The whole experience is completely painless and is over in a matter of minutes.
Why Do I Need An OPG?
This type of x-ray allows your dentist to see all of your teeth in great detail, as well as any issues you may below the surface. Orthopantomography is commonly used to plan for Orthodontic treatment and dental implant placement or to detect the presence of wisdom teeth.
At Zero Seven Dental our dentists will always discuss your treatment plan with you in detail before you proceed. If an OPG X-ray is required you will be able to discuss this with your clinician to ensure you are happy to go ahead.
Are You Considering Dental Treatment?
We offer a wide range of dental treatments at Zero Seven. From Specialist Orthodontics and Specialist Periodontics to Dental Implants and Same-day Veneers.
As a multidisciplinary practice we offer all of these dental treatments under one roof with no need to be referred for more advanced treatments.
If you would like to know more about any of the treatments we offer you can visit our website or get in touch and one of our expert team will be happy to help.