All You Need to Know About Dental Implants
What is a Dental Implant?
A Dental implant is a discreet, long-term solution for restoring your smile or filling in gaps left by missing teeth. Whether it's to remedy one, or multiple missing teeth, having dental implants might just be the best thing you could do for your smile.
A dental implant itself is a titanium screw that is placed directly into your jawbone, replacing your missing tooth root. The bone surrounding your implant will gradually fuse to it, holding the implant firmly in place.
A false tooth (a crown or denture) is then fitted to the top of the implant. At Zero Seven Dental our Specialist Periodontist and Implant Surgeon Dr Ruben Garcia-Sanchez and Dr Tushar Enaker are extremely passionate about this type of dental treatment. They will ensure that the false tooth or teeth are the same shape, size and colour to your existing teeth, meaning your implant will blend in naturally with your smile.
If you are considering dental implants we have put together some key information and the treatment to help you make an informed decision. Here is all you need to know about the different types of dental implant treatments we offer at Zero Seven Dental.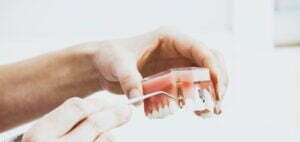 Single Dental Implants
Perhaps you've been in a situation that's resulted in the loss of your tooth or your tooth has fallen out naturally. You likely now feel helpless and self-conscious about your smile. Don't worry, our single implant treatment can help restore your confidence.
This method is one of the most trusted and permanent options for fixing a missing tooth, with replacement teeth crafted to look and feel just like your real teeth. When you show off your gorgeous smile to the people around you, they won't even notice it's an implant!
Multiple Dental Implants
This method is opted for when more than one tooth is missing. Losing more than one tooth can have a negative effect on your mouth's overall function and structure, causing teeth to move into spaces where gaps aren't filled.
Having multiple dental implants can help to restore the structure of your teeth and jaw and improve your confidence. Rest assured that multiple implants are a strong and secure solution to several missing teeth. Multiple implants are the perfect method of bringing your beautiful smile back to life.
Dental Implant – Dentures
Implant dentures are far more advanced than traditional dentures, which often look undesirable due to incorrectly fitting the structure of the face.
At Zero Seven Dental, our dentists craft your implant dentures to fit perfectly, look realistic and be permanently secured. Receiving implant denture treatment will allow you to chat, laugh, smile and chew with ease.
If you're looking to replace your teeth and repair your smile with dental implants, Zero Seven Dental in Farringdon is the place to be.
Our friendly, close knit team will be delighted to answer any questions you may have and get you started on your new smile journey.
If you're considering any type of dental implant treatment get in touch with a member of the team at Zero Seven Dental Practice in Clerkenwell today on 020 7253 7667 or book your initial consultation online.