DERMAL FILLERS CLERKENWELL, FARRINGDON
Restore Volume for smooth, youthful looking skin
Our highly qualified facial aesthetics experts can help give you skin you'll love to show off, which helps reflect how young you feel inside. Using dermal filler, we can also treat those deeper lines and wrinkles – and, of course, give you a subtle boost of volume to the lips using lip filler.
As we age, skin can lose some of its laxity – that gorgeous, elastic-like quality that gives it texture, definition and plumpness. A good diet, appropriate skincare and regular exercise can only do so much for your skin, so if you're faced with sagging and loss of volume, it's time to call in the experts.
Lip enhancement in Farringdon
Using dermal fillers we can also give your lips more volume and fullness. A perfect pout has become increasingly sought after, and our lip filler treatment in Clerkenwell can help you to achieve yours.
Get in touch to find out more about dermal fillers and lip fillers at Zero Seven Dental practice today.
3 SIMPLE STEPS
1. CONSULTATION
Dermal fillers, are usually suitable for most of our clients, however we welcome you to a consultation to ensure it's the right treatment for the area and aspect you're looking to treat. We'll talk you through what the treatment involves, assess your skin, and answer any questions you might have, helping to put you at east along the way.
2. TREATMENT
We'll inject your chosen areas with a filler that contains hyaluronic acid, a naturally-occurring substance found in the body, which has moisturising and volumising properties. We'll also give you detailed aftercare instructions so you can get the most out of your results, and can recommend any further treatments you might like to try in the future. Treatment usually takes 30 minutes to 1 hour.
3. RESULTS
Fillers often have immediate results – though if you experience swelling, you'll need to wait for this to reduce before you have a true idea of how you'll look. Results typically last 6-18 months, at which point the effects begin to soften as the hyaluronic acid is safely broken down by the body.
Book Consultation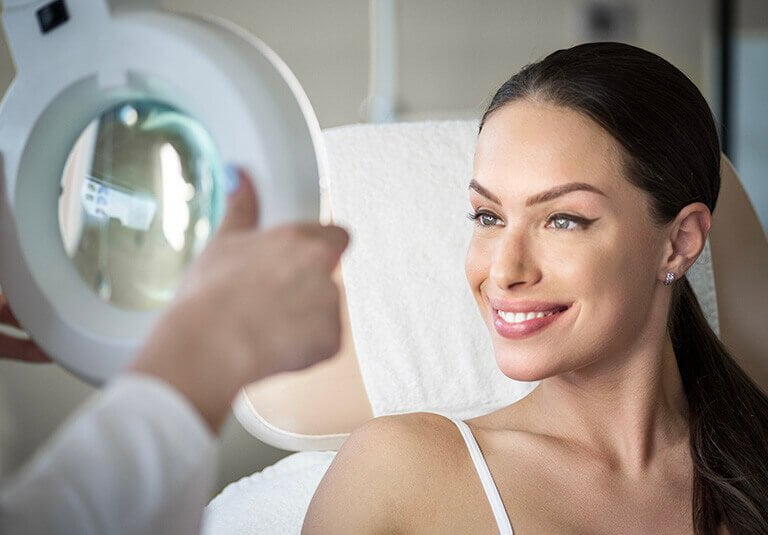 FREQUENTLY ASKED QUESTIONS
Smoothing out deeper lines, wrinkles and scars
Defining and contouring the nose, cheeks and chin

Restoring volume and fullness to the skin and lips

Moisturising the skin with super-hydrating hyaluronic acid

Our highly skilled experts can discuss these fully with you during your consultation, so you'll have an idea of how your results might look.
Dermal fillers can help you look and feel better than you thought possible, and as a non-surgical option, results are reversible if you're unhappy. Our facial aesthetic treatments are provided by fully-trained clinicians for ultimate safety and peace of mind.
A 'natural' yet noticeable result is always our aim. We know how amazing it feels to make subtle improvements to your appearance that leave others guessing, without being obvious you've had a treatment. At Zero:Seven, we're confident we can boost your looks and confidence with all of our facial rejuvenation treatments, without leaving you looking 'fake' or 'frozen'.
We would never want a patient to be put off a treatment with thoughts of discomfort – especially because results can be so transformative. That's why we try to make you feel as happy and relaxed as possible during your treatment. With everyone's pain threshold differing, what doesn't hurt for one person might be unbearable for another, which is why we offer a numbing cream/component to your procedure, helping ensure ultimate comfort throughout the process.
It is possible to reverse the effects – and as it's a non-permanent treatment, results will soften and fade over time. We always start small, allowing you to build on your results with a top-up later down the line.
As touched on before, diet, exercise and skincare all play a part in the health and appearance of our skin. It's also important to keep yourself hydrated and sun-protected.
Dermal fillers or lip fillers are a substance (typically hylauronic acid) which is injected into the skin to increase volume, enhance or define the facial features or to improve the appearance of deep-set wrinkles.
Lip fillers or dermal fillers typically last between 6 and 18 months.