MICRONEEDLING CLERKENWELL, FARRINGDON
KICKSTART SKIN HEALING
As the name suggests, microneedling uses a series of tiny needles to gently prick the skin, which kick-starts the skin's healing response. In turn, this causes the skin to produce elastin and collagen, two proteins which give skin its supple, plump appearance.
Microneedling isn't just a purely aesthetic treatment – although it's best-known for dealing with wrinkles, revitalising the complexion and evening out skin tone. In fact, it can also reduce signs of skin damage, including scarring and dark marks.
Get in touch with our expert team today to find out more about microneedling treatment at our dentist in Clerkenwell, Farringdon.
3 SIMPLE STEPS
1. CONSULTATION
As with all our facial aesthetics treatments, the journey starts with a consultation, which is essential for assessing your skin and determining the best treatments for you. We'll talk you through all elements of the procedure, highlight any aftercare and side-effects, and answer all questions and queries, giving you the ultimate peace of mind.
2. TREATMENT
Treatment typically takes a couple of hours, with results developing over time. It involves using a numbing cream to make the process as comfortable and painless as possible, before your facial aesthetics expert makes small, even punctures in the skin with a specialised tool. Treatment can also be combined with application of a serum, which can deeply penetrate the skin and lend additional benefits. Finally, a calming cream can be added at the end of the session to soothe any redness or irritation.
3. RESULTS
The treatment can make your skin look and feel firmer and more elastic, and can fade the appearance of uneven tone, sun spots and some types of scarring. You can also target fine lines and wrinkles. Results typically last between 4-6 weeks, and we may recommend a course of sessions.
Book Consultation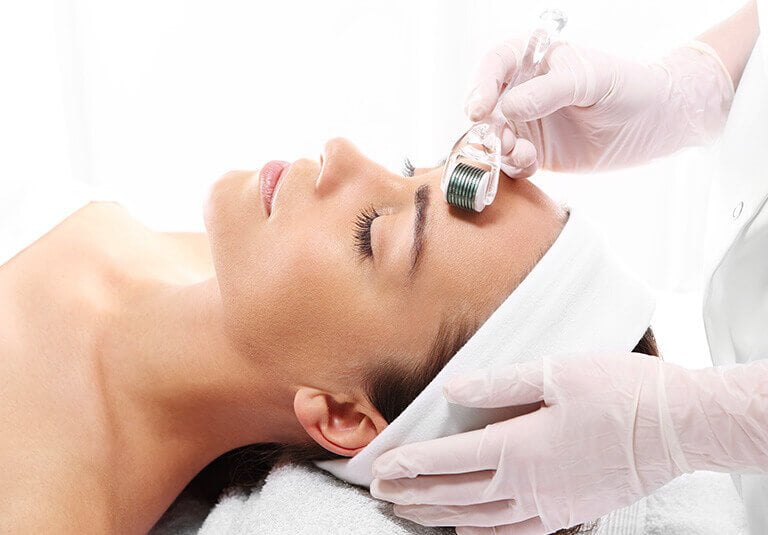 FREQUENTLY ASKED QUESTIONS
There are lots of positives to microneedling treatment:
Considered safe for most adults (some exceptions do apply, for instance it's not recommended for pregnant women)

Minimally-invasive, without the need for surgery

Little downtime involved – usually just some slight irritation or redness
It certainly does! Your skin could be boosted in lots of different ways – from the fading of scars and marks, to firmer texture, to more even tone. Individual results vary, it will depend on the severity of your skin condition and how many treatments you have.
Everyone's skin and skin needs are different, so this is something that will be discussed with you during your consultation. However, the treatments can be repeated every 4-6 weeks as required, and a course of treatments is usually recommended.
There is little microneedling aftercare required. Many of our clients go back to work immediately after treatment, as there's so little downtime involved. However, it's fair to say that microneedling treatment leaves your skin a little vulnerable in the beginning – for instance, you'll be more sun-sensitive. Sun care is essential in the first weeks, and there may be signs of redness and tenderness.
At-home options, such as dermarollers, won't achieve the same level of results that you can expect from a clinic. This is because the needles hardly puncture the skin at all – so the healing response isn't as pronounced and therefore, results aren't as dramatic.
At our dental practice, not only will you have a specialist handling the procedure from start to finish, but you'll also benefit from our wealth of experience and expertise – and could achieve more pronounced and even-looking results. The environment is also far safer and more sterile than your average at-home setting.