Why you should choose Invisalign
Statistics published by a leading dental publication suggest that as many as 40% of the British public are unhappy with their teeth. Whether it's their whiteness, cleanliness, or straightness, our teeth's appearance means a lot to us. Not only this, but their misalignment can affect your bite and comfort too. If you have crooked teeth, then no doubt you've considered braces at some point. A lot of adults find themselves shying away from adult braces, though, because they associate them with visible, metal, fixed braces rather than the alternative. If you'd like a straighter smile and a discreet treatment process, you might find yourself drawn to Invisalign…
Reasons to choose Invisalign:
Invisalign are (and aren't) braces
Invisalign treatment in Clerkenwell, Farringdon combines all of the function and treatment of traditional braces without actually being traditional, fixed braces. Where traditional braces are starkly visible against your teeth, Invisalign are made of a clear yet durable plastic that lets your teeth's natural hue shine through. This ensures they're easily camouflaged in your smile, rendering them almost invisible. There are no metal wires or brackets that can irritate the soft tissue of your mouth, instead there are rounded and smooth plastic edges that won't cut your gums. They still perform as braces and better your bite and smile, but they do so much more discreetly and comfortably.
Invisalign are removable
Where fixed braces are glued to your teeth with a strong dental adhesive and brackets, Invisalign are entirely removable. They are custom-made to your teeth using a series of moulds and 3D scans, so they can be removed from your teeth almost like a gum shield. This means they can be taken out for eating, cleaning, and the occasional social gathering and photo opportunity. Not only are the clear, so virtually undetectable when you smile, but they are also removable, so in any case your smile is unrestrained.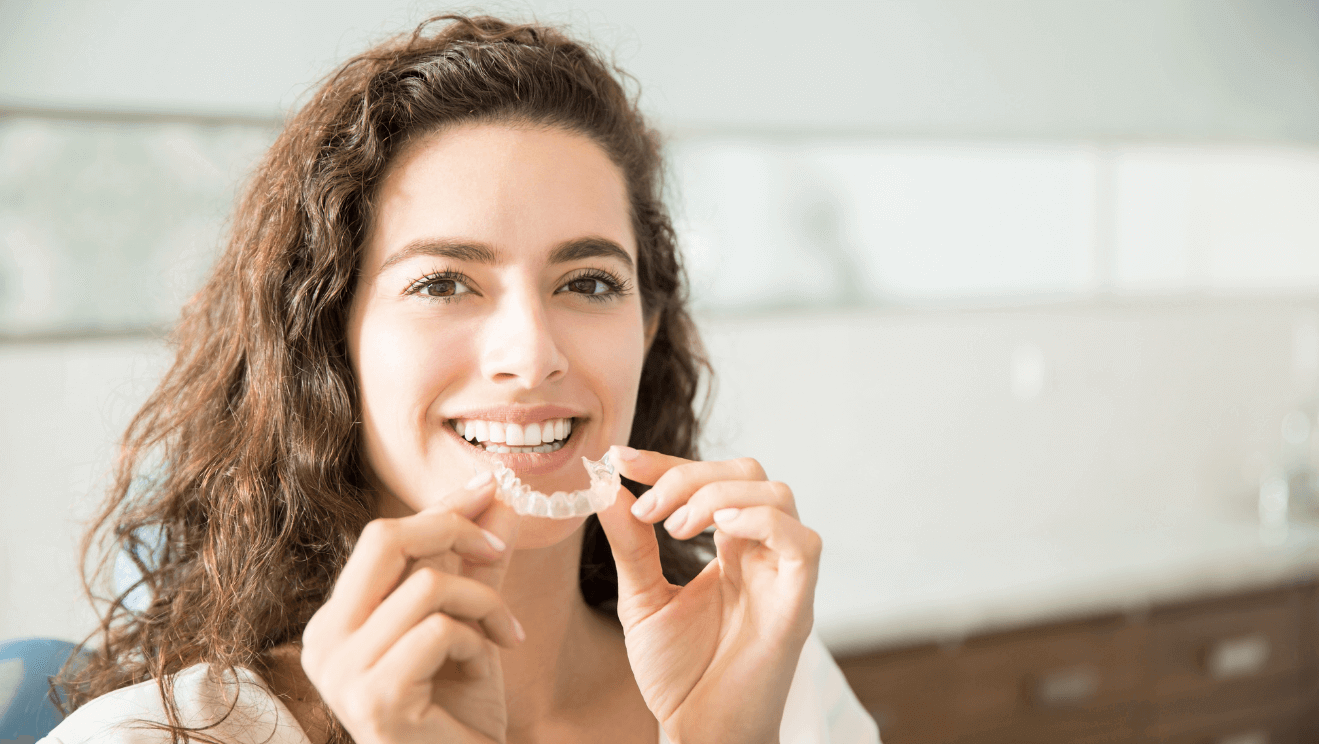 Invisalign doesn't limit your diet choices
Traditional braces come with a lot of dietary limitations – no hard or chewy bread, no whole apples, no toffee or chewy sweets – but Invisalign do not. Because they are removable, you can enjoy any item from any menu as long as you take your aligners out and clean your teeth before replacing them after eating. This is one of the most attractive aspects of the braces, because you don't need to limit your lifestyle or diet in order to continue receiving the treatment for straighter teeth.
Invisalign braces are comfortable
Comparatively, Invisalign braces are a lot more comfortable than traditional braces. This is because traditional, fixed braces are fused to your teeth and therefore drag and pull them into a straighter position. There is a lot of tension created with traditional brace systems, but Invisalign act very differently. They apply a constant pressure to your teeth which helps guide them and usher them into position. This is achieved through the different stages of aligners that will be made for you, as you will receive a new instalment every few weeks until you reach your end results.
If you're considering Invisalign in Farringdon, then get in touch with the dental health professionals at Zero Seven Dental Practice in London. Arrange your initial consultation on 020 7253 7667 today.